As an award-winning professional maternity photographer based in Calgary, I can't help but share the one location that stands out for its natural beauty – Fish Creek Provincial Park. With its tall trees, trails and picturesque landscapes, this natural haven offers the perfect backdrop to celebrate the beauty of pregnancy. Join me on this maternity photoshoot at Fish Creek Provincial Park and discover how it can transform your maternity photos into timeless works of art.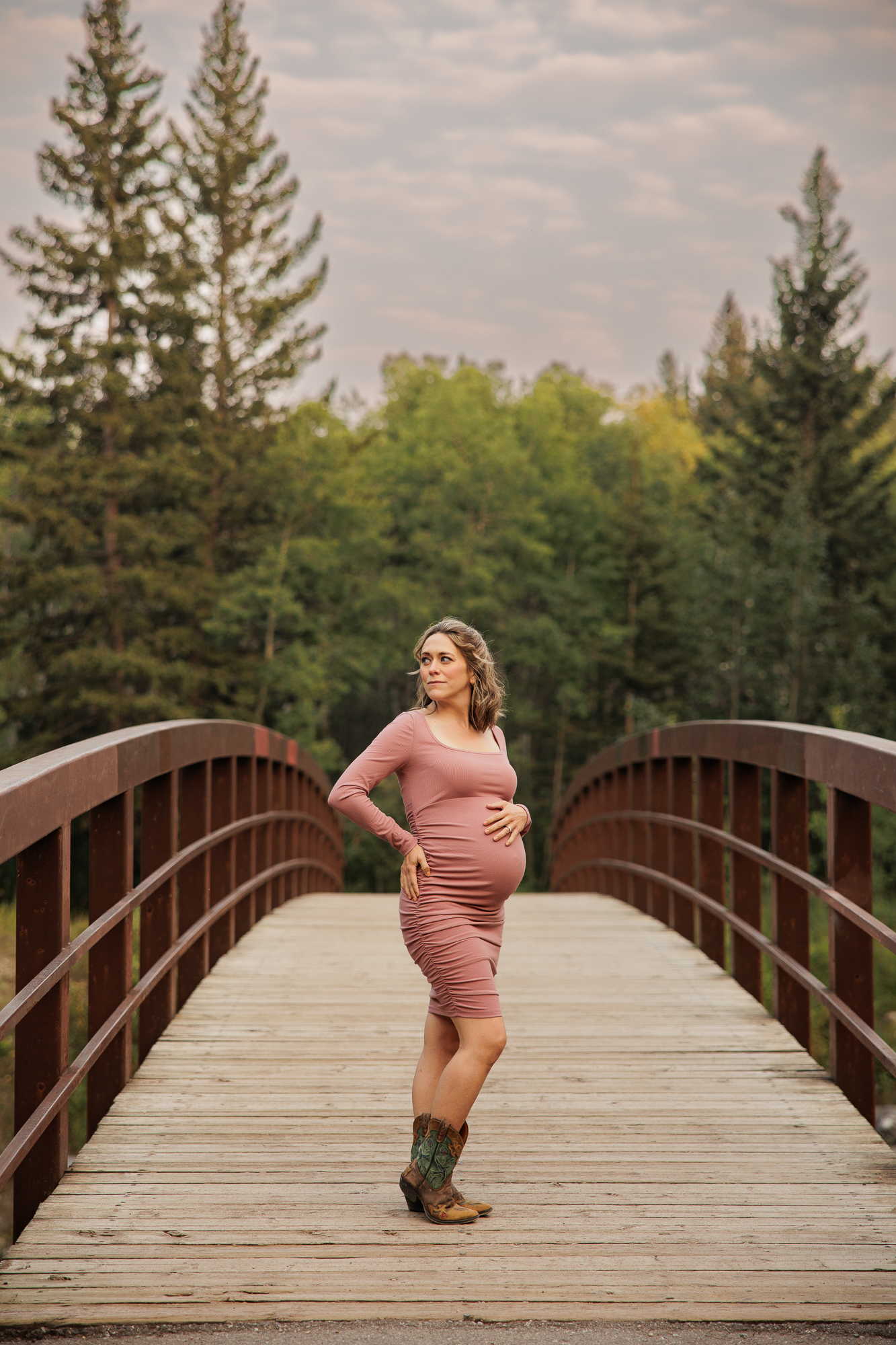 Fish Creek Provincial Park
Picture this – you, your blossoming belly, and the love you share with your unborn child, all set against the stunning backdrop of Fish Creek Provincial Park. The park is a true gem nestled in the southern part of Calgary, offering a diverse range of landscapes. The park is a haven for photographers seeking to capture the raw, natural beauty of pregnancy.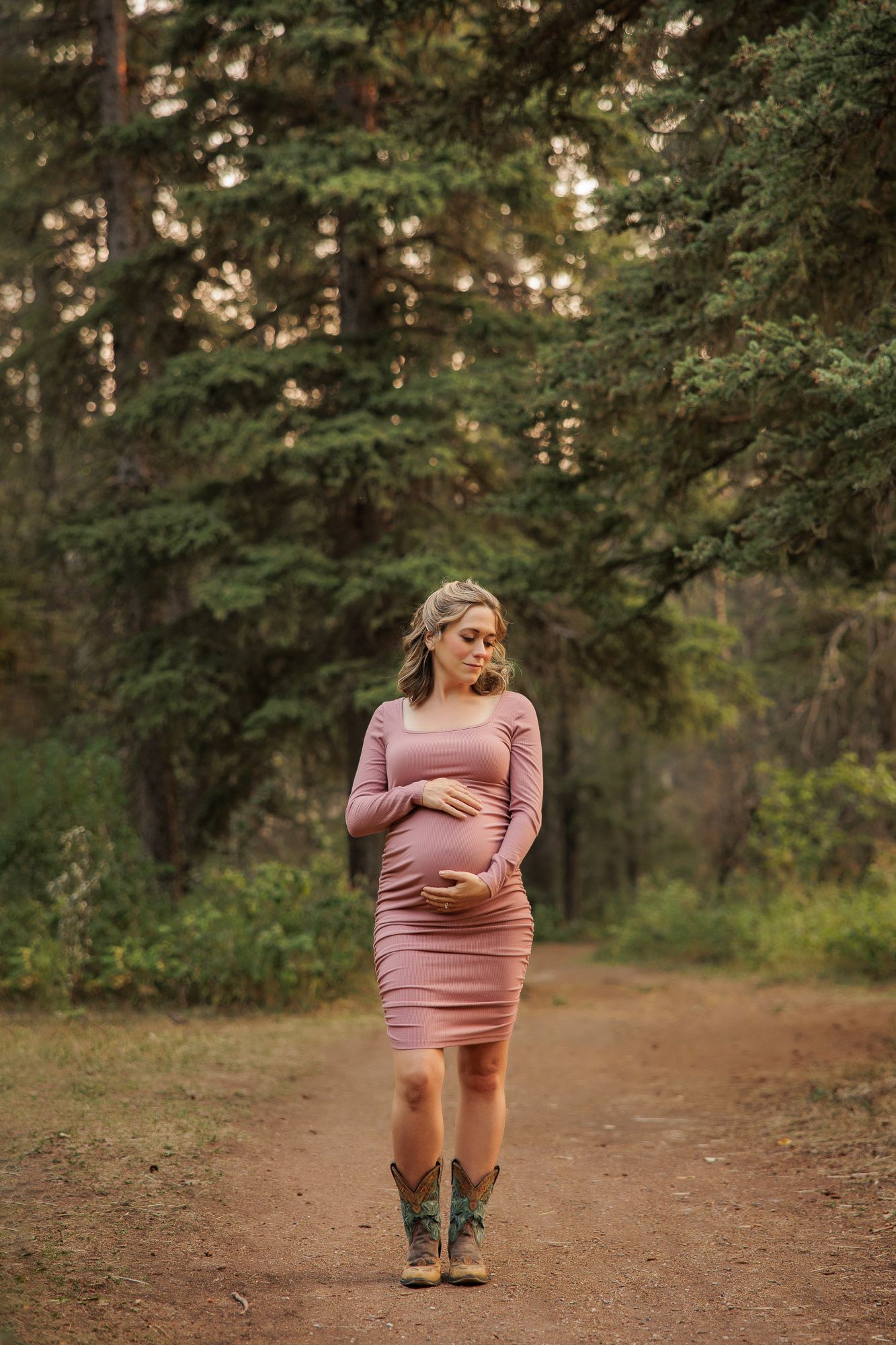 With my extensive experience as a maternity photographer in Calgary, I've explored every nook and cranny of Fish Creek Provincial Park, allowing me to select the most stunning spots for your maternity photoshoot. It's truly a slice of paradise right in the city, and it's the ideal setting to showcase the beauty of your pregnancy.
The Magic of Golden Hour
One of the most magical aspects of Fish Creek Provincial Park is the way it transforms during the golden hour. As an expert maternity photographer, I can attest that this magical time – just before sunset or after sunrise – bathes the park in a warm, golden light that enhances the natural beauty of both you and the landscape. During this time, the world seems to slow down, allowing us to capture those intimate, heartfelt moments that define maternity photography.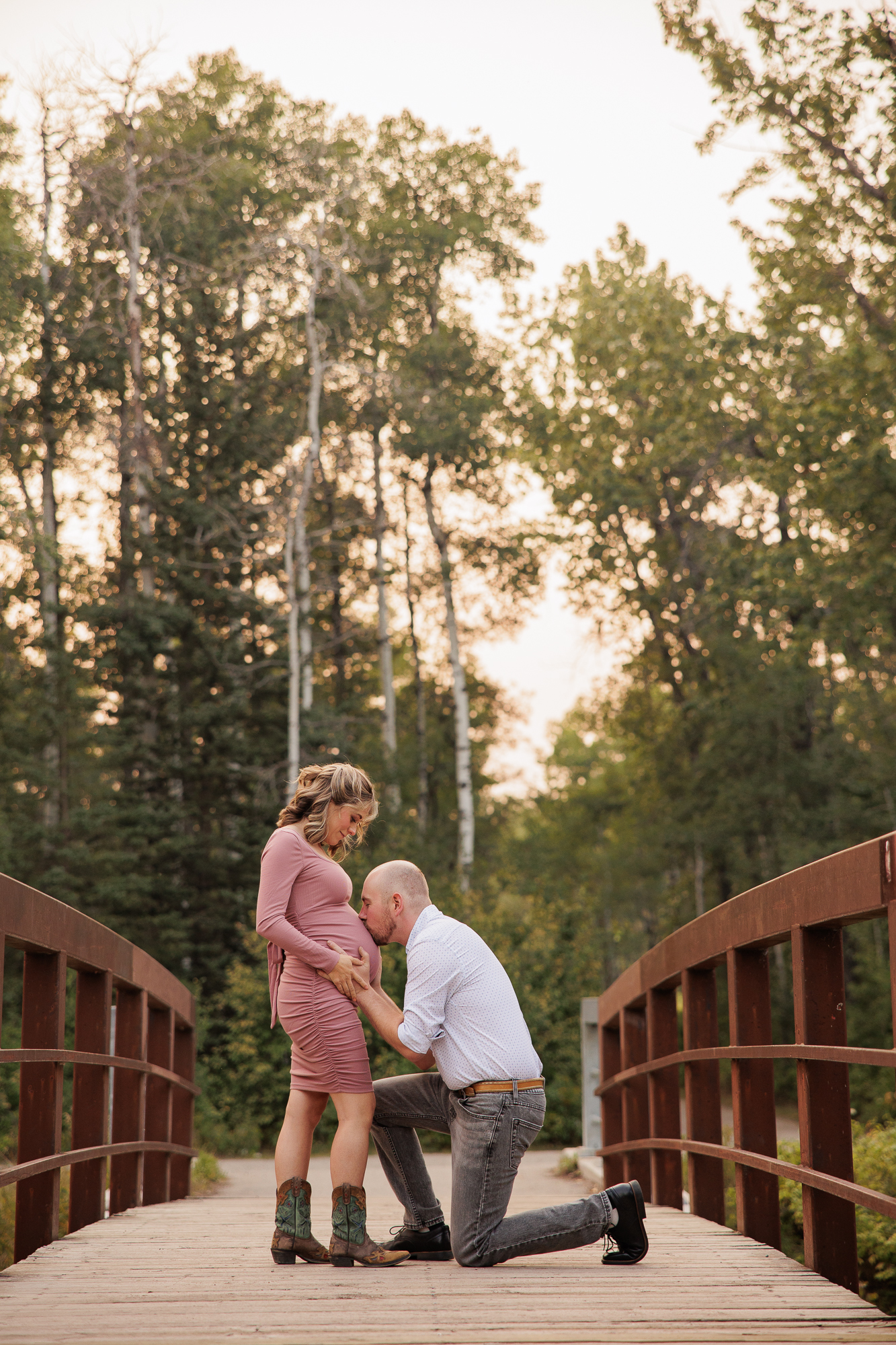 The trees around you are kissed by golden light, and the water reflects the sky's stunning hues. It's a moment that's truly breathtaking and one I've had the privilege to capture time and time again at Fish Creek Provincial Park. If you're seeking the perfect maternity photos that will leave a lasting memory, this golden hour magic is something we can't miss.
Unleashing Your Inner Goddess
Pregnancy is a time when a woman's inner strength and beauty shine like never before. At Fish Creek Provincial Park, you have the chance to tap into your inner goddess and celebrate this powerful transformation.
I love guiding my clients through this journey, helping them find their unique style and vision. Fish Creek Provincial Park allows us to explore different settings that match your personality and showcase the magic of pregnancy. We can take intimate, close-up shots highlighting your baby bump or capture candid moments of you and your partner sharing loving gazes. The park's versatility ensures that your maternity photoshoot will be as unique and beautiful as your pregnancy journey.
Stress-Free Maternity Photography Experience
As a maternity photographer, I understand the importance of creating a comfortable, enjoyable environment for expecting mothers. The park's atmosphere offers the perfect escape from the hustle and bustle of daily life, allowing you to unwind and truly enjoy your maternity photoshoot. Your well-being is my priority, and I'm dedicated to ensuring you have a wonderful, stress-free maternity photography experience at Fish Creek Provincial Park.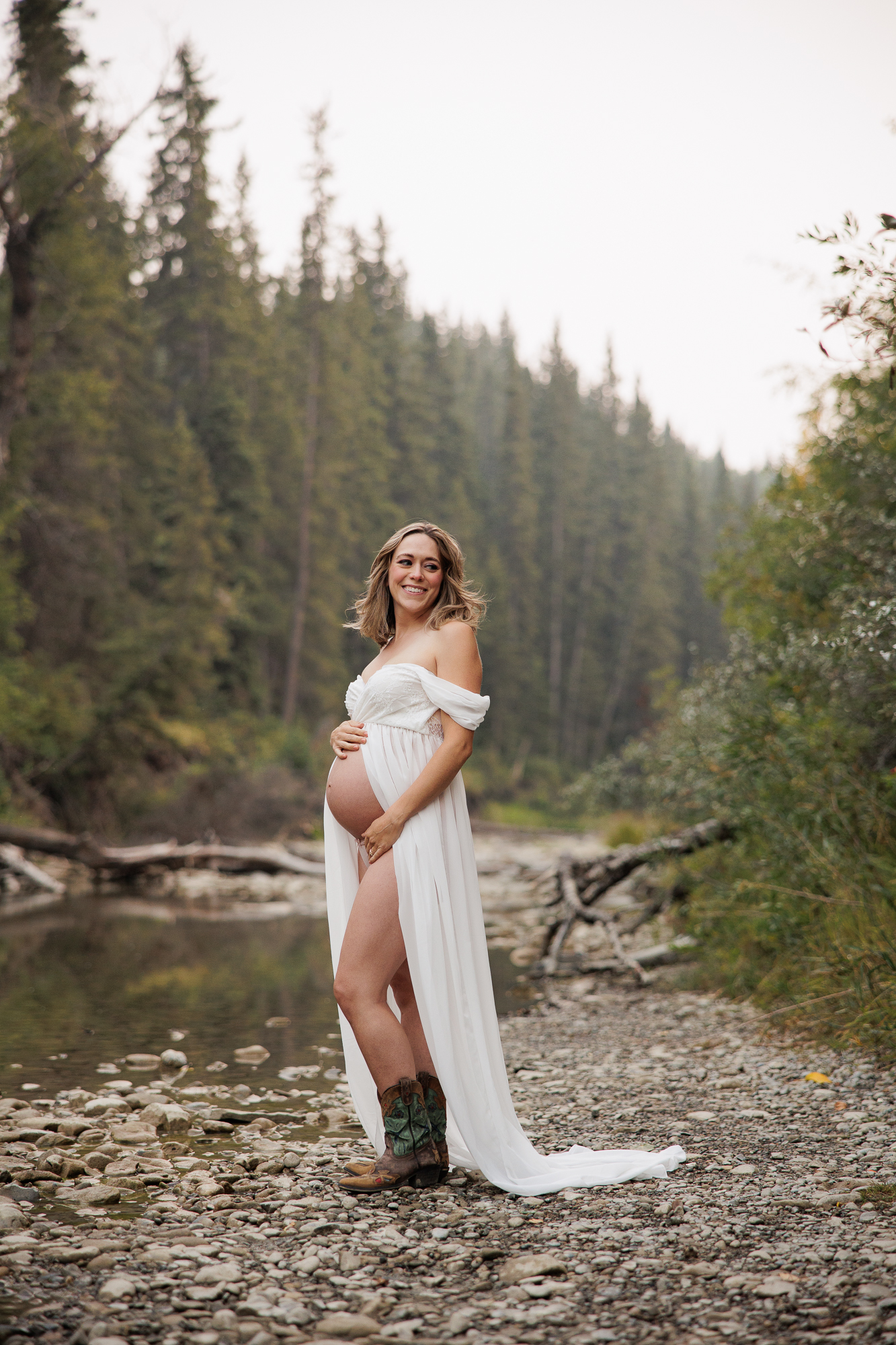 A Special Experience for You and Your Partner
A maternity photoshoot isn't just about celebrating your pregnancy; it's also a wonderful opportunity to bond with your partner and share the excitement of becoming parents. Fish Creek Provincial Park offers an intimate and romantic setting, allowing you and your partner to express your love and anticipation as you experience this incredible journey together.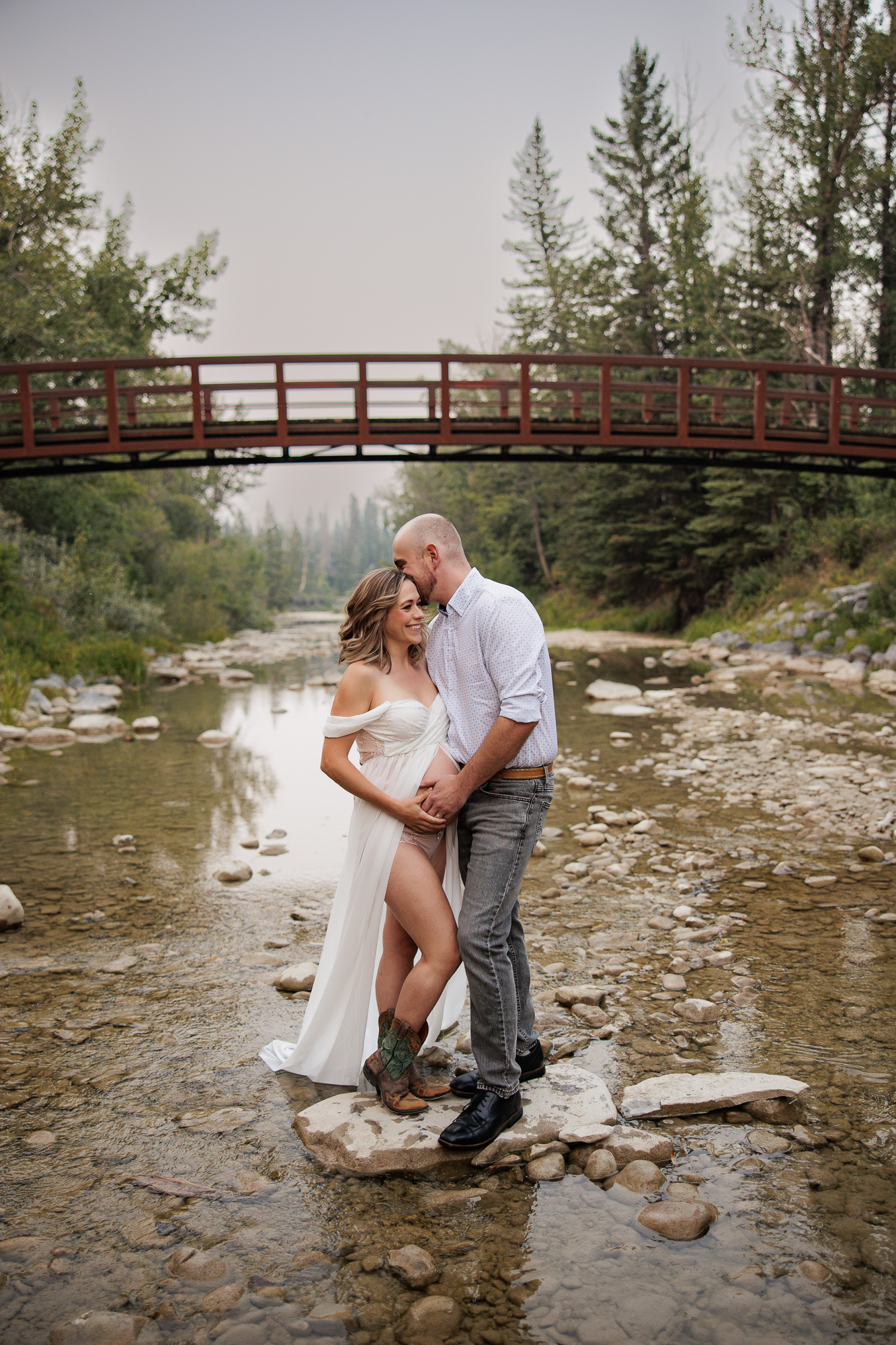 During our photoshoot, I'll capture those genuine, heartfelt moments between you and your partner. Whether it's a playful kiss beneath the canopy of trees or a moment of reflection on a rustic bridge, the park's natural beauty will enhance the love you both share. These photos will become cherished memories that you'll look back on for years to come. Fish Creek Provincial Park's tranquil setting is an essential part of the story we'll tell through your maternity photos.
Creating Timeless Keepsakes
The beauty of Fish Creek Provincial Park serves as the canvas for creating timeless keepsakes that will celebrate your journey into motherhood. With my expertise as a professional maternity photographer, I'll capture your unique essence in every frame, ensuring that each photo evokes the emotions and memories you'll want to cherish forever.
The park's natural surroundings, combined with my skill and passion, result in photographs that are not only visually stunning but also deeply meaningful. Whether you choose to have these photos displayed in your home, shared with family and friends, or included in your baby's album, they'll always be a reminder of the incredible transformation you experienced during pregnancy. My goal is to provide you with images that will bring a smile to your face every time you look at them.
Conclusion
Fish Creek Provincial Park in Calgary is a breathtaking location that promises to elevate your maternity photoshoot to new heights. As an award-winning professional maternity photographer, I'm thrilled to guide you through this journey, capturing the unique beauty and essence of your pregnancy amidst the park's natural splendour.
Your maternity photo shoot at Fish Creek Provincial Park is a once-in-a-lifetime opportunity to create lasting memories that celebrate the magic of motherhood. I invite you to connect with me at Amanda Dams Photography, where I'm eager to discuss your vision, answer your questions, and schedule your own unforgettable maternity photoshoot. Let's embark on this exciting adventure together, and capture the radiant beauty of your pregnancy in a setting that's as extraordinary as your journey into motherhood. Contact me today, and let's make your maternity dreams a reality!